Personalized Home product Layouts
Admin of the app can utilize and set custom Home product layouts in order to enrich the experience of the users on the platform. This in turn will amaze users on the platform and kindle interest in their minds to make use of the platform frequently. So, enhance the user experience on the ecommerce site and provide them smooth navigation on the website with the customizable home product layouts.

Ratings and reviews
Allow the buyers on the ecommerce platform to provide ratings and reviews for the products with the incorporation of this interesting section in your app. The valuable feedback from the buyers will help other users on the platform those who are on the verge of purchasing a product. It will also boost confidence among the users to make their purchases.

Banner option
Admin of the app can set banners to improve site navigation and to allow the users on the platform to explore more on the site within just a fraction of second. With this exciting feature of Appkodes Fantacy, Admin can set banners to link to other websites, product details page, and category pages. Use this attractive feature of our Amazon clone solution to astonish users on the ecommerce platform

Product Details
Product FAQ
With this feature of Appkodes Fantacy, allow the buyers on the platform to raise product – related questions and get answers from the corresponding sellers and other buyers on the platform instantly. This will facilitate communication between sellers and buyers. And, will also help those buyers who want to know more about a specific product before purchasing it.
Like and Share
Appkodes Fantacy includes an option for the users on the platform to like and share the product on the social media networks to make others know about that product. This will popularize the product within a short span of time.
Offer
With this inclusion in Appkodes Fantacy, you can enable the users on the ecommerce platform to avail the offers and discounts of the product
Product Selfie
Allow users to post selfies with the products they have purchased from the sellers. This, in turn, makes those sellers unique from others.
Share Discount
Our Amazon clone provides an option for end-users to share products on social networks in order to get attractive discounts on those products.
Video Play
Sellers can now include the demo explaining the working process and uses of their products with the help of this interesting video play feature of our Amazon clone script.

Cart and Buynow
Shopping Cart
Helps buyers on your ecommerce platform to add products to the cart and so they can take a decision on what product to purchase at the time of payment.
Buy now
With this beneficial feature of our Amazon clone, buyers can buy any product quickly and conveniently without the need to add the products to the shopping cart.

Shipping and Orders
Multiple Shipping Address
Our Alibaba clone lets users add more shipping addresses. So, at the end of the purchase, buyers can select the desired destination that is more convenient for them to ship the products.
Orders and Tracking
Buyers can know the exact status of their orders and can also track the arrival of their products with this 'Orders and tracking' feature of our Amazon clone.

Multivendor System
Daily Deals
Provide deal of the day and best offers for your customers with this brilliant feature of our Amazon clone. This will surely evoke interest in the minds of customers to purchase those products.
Popular product
Utilize product popularity to impress users and make them buy products that are so popular and highly required.
Popular Stores
With this amazing feature of our Amazon clone, display some popular stores and remarkable products of those stores to astonish end users and thereby influencing them to purchase those products.
Multi level category
With three levels of categories in our Fancy clone, buyers can choose their preferred products easily from the most appropriate categories.
Search & Filter
Barcode search
Buyers can efficaciously search for products by using this barcode search feature. So, finding products is easier than ever before.
Price Filter
Buyers can now refine the product search by making use of this price filter option of our Amazon clone script to filter products depending on their base prices.
Color Filter
By using the color filter feature of our Fancy clone, shoppers can search for products based on their color choice.
Sort By
Our Amazon clone provides a superb chance for the buyers on the platform to sort the products depending on their preference.

Multiple Payment Options
Credit Cards
Shoppers can make credit card payments and transfer the amount straightly and quickly to the seller's account through the convenient payment system available in our Alibaba clone.
Cash on Delivery
Sellers can also specify some products as cash on delivery. Buyers can shop those products and payments for those products can be done after the delivery.
Paypal
The integrated payment system of our Amazon clone allows end-users to make their payments for the products purchased through Paypal.
One Click Checkout
Our Amazon clone allows vendors to build an unparalleled shopping experience for the customers; make their payment process frictionless and to ease their checkout process with just a single click.

Follow , Live Feeds & Alerts
Follow
Appkodes Fantacy allows sellers to create profiles along with their product listings. Each and every buyer on the platform can follow the seller of their choice to view and shop products offered by those sellers.
Finding Friends
Users can find and follow other people with similar interests on the products through this finding friends feature of our Alibaba clone script.
Live feeds
With the live feeds feature of fancy clone script, users can exactly know the new arrivals, updates, latest activities on the platform and recent posts from their followers.
Create Feeds
Users can now create and share posts regarding products or what's in their minds currently in the feeds section. The users' posts in the feeds section can be viewed by their followers.
Alerts
Buyers will be notified then and there with instant alerts regarding the newly arrived products, the status of their orders, and also about many other interesting happenings on the platform.

Seller Coupons & News
Seller Coupons
Coupons can be provided for specific products or for some categories, which can be then utilized by the users to purchase the products.
News
This section of our Amazon clone includes important announcements and updates from the sellers and stores, which will also be visible to the buyers.
Contact Seller
Buyers can contact sellers and can also have a conversation with them to know about the status of their orders, shipping details, and queries related to products.

Web Application
Attractive Design
Our fancy clone comes with a most appealing design to attract more users towards the platform. This design can also be modified based on your business requirements.
Performance
The speed and performance of our Amazon clone script are unmatchable irrespective of the screen sizes and platforms from where it is accessed.
Secured
The top-notch security features of our alibaba clone protect the application from undesirable attacks and ensure that the app is completely secure and safe to use.
Bootstrap Responsive
Our Amazon clone is designed rigorously with responsive design to adjust easily to various devices such as tablets, smartphones, etc.

Group Gifts & Gift Cards
Group Gifts
With this striking feature, many users join together and contribute the amount to send any product as a gift to their dear ones.
Contributions
More users can pool amount together as a group for group gift contributions and thereby able to gift their loved ones.
Gift Cards
Users can purchase and send gift cards with personal notes, adding pictures, etc to their loved ones. The recipients can then make the purchase of their choice with those gift cards.
Vouchers
Vouchers that are received from friends can be then used for buying desired products on the platform.

Admin
Dashboard
Admin can manage the site more effectively by getting a clear overview of the complete operations and activities on the platform with the help of an alluring dashboard in the Admin panel.
Custom Home page
Our Amazon clone allows you to customize the homepage as per your wish to give it an enticing look and thereby impressing more users towards the site.
Dispute
Admin of the app can act as a mediator to solve the disputes between buyer and seller and can also accept/deny any dispute raised by the users.
Track Orders
The list of all new orders and that was already delivered can be viewed by the Admin. He/she can also track the status of each and every order placed on the platform.
Invite & Credits
Referral
Our fancy clone script paves the way for the users to earn credits by inviting their friends through email or social media with the help of the referral link provided. Users can make purchase with the credits earned.
Earn
To pay for purchased products in case of a shortage of funds, buyers can make use of the credits as partial or full payment and remaining as cash.
Credits
If a buyer is not satisfied with a product, the amount invested for purchasing that product will be refunded as credits to the buyer. These credits can be then used for future purchases.

Customization / Changes
If you want any of the features to be modified or included in the product or if you are looking for some fresh concepts in the product, you can make a request and approach our team to get the required customization support.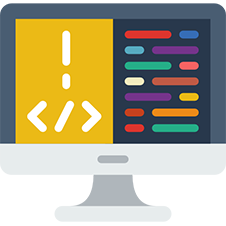 Abandon Cart & Coupons
Abandon cart
With this option in our alibaba clone script, merchants can know the products that are kept long or abandoned by the users.
Coupons
Merchants can provide coupons to those products that boost the sales and to the users those who are having the products on their carts.

Newsletter
Mailchimp
To mail your subscribers regularly, professionally and effectively, Mailchimp is integrated into our fancy clone and so you can stay in touch with your buyers.
Increase Sales
Merchants can improve their sales by sending emails to their subscribers at regular intervals regarding offers and other significant updates on the site.

Dispute & Message Buyer
Dispute
With the help of the dispute section of our Amazon clone, complaints from the buyers and the products that were received as damaged can be sorted out easily.
Message Buyer
Our fancy clone script provides an amazing opportunity for the sellers to message buyers directly and thereby able to increase their sales and business.

Manage Orders & Products
Manage Orders
The merchant app of Appkodes Fantacy allows sellers to monitor and manage the orders more effectively and so can deliver the products without any delay to their customers.
Manage Products
Sellers can view the products in real-time and in case of any mistake, they can also manually manage the required orders.

Payments & Delivery
Payment
Under the payment section of our Amazon clone, sellers can accurately find their earnings or payments that they have received for a product from the buyer.
Braintree integration
Braintree has been integrated into our Amazon clone for making payments. Through this payment platform, users can make their payments more easily and conveniently.
Settings
Merchants can set up default currency settings through the payment settings in the Merchant panel. This can be done by entering the private and public key of Braintree ID.
History
With the history section available in our Amazon clone, merchants can get the complete payment history and a detailed report on the transactions occurred earlier.

Notifications
Buyer Notifications
On every buyer's activity such as the purchase of the product or message received from a buyer, etc, the seller will get notifications and so can take instant actions.
Product Notifications
Sellers will also receive notifications then and there on each and every status of the products such as when Admin approves new products, and so on.

Detailed Profile
Verification
Admin can verify sellers under this verification section available in our Amazon clone. This, in turn, builds credibility for those verified sellers.
Review
The reviews provided by each and every buyer for a seller or a product is available in this review section of Appkodes Fantacy.
Store profile
The precise information about the stores of sellers is available in this store profile section of our Amazon clone.
News
Our Amazon clone also includes a news section to provide all updates that are connected with the merchants.