Our Products
Problems while building Swoon, Grindr, Match Clone Scripts – Appkodes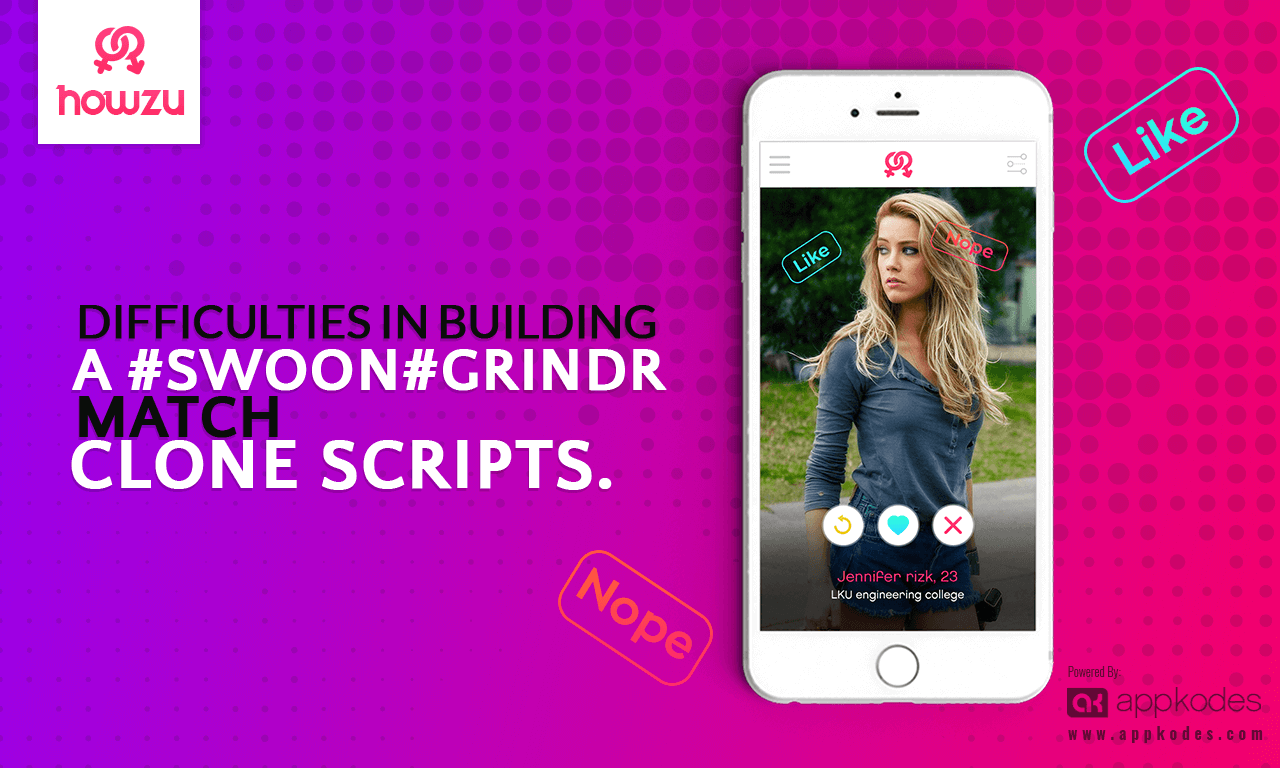 2 min read
Dating script
is raised with many variations based on features as per the builder's vision. This shows the many difficulties in building a Swoon, Grindr, Match Clone Scripts.
Why Say Swoon, Grindr, Match Clone are a Virtual Community?
Dating apps are popularly known as social networking. The use of internet-based social media programs to make connections with friends, family, classmates, customers, and clients. Used for making new friends and hookups online.
Through social networking websites, users can share their lives with other people without needing to develop and publish their own home pages. This app allows users to seamlessly communicate without interruption.
Desired app features
Easily attract youths with a pristine mobile dating app.
Users can swipe right or left to accept or reject the search results they are matched with.
You have to give the feel of you have come to the right place and right platform with complete customer services for all in a brand.
• Profile search based upon near location and desired location
• And age based search
• Social media logins
Define desired features for admin panel and users
• User-friendly features and admin friendly features.
• Eye comforting look with the awesomely smooth feel and theme-specific design.
• Fully customizable, ready-to-use screens for users with easily configurable application design, and the right UX for a Dating App.
App Flow
• Signup with email
• User profiles review (individual & others)
• With rewind features to mark status
• Match & un match user profiles
• Like, dislike, else reject…profiles
• Instant chat with matched profiles
• Get on the date with match profile.
Always dating app connects couples and in online dating app script, some additional ways to add is suggesting the desired profiles based on their likes and dislikes, which makes to take decision easily to select the suitable pair.
Four Basic Types Of Dating Apps:
• Php Dating script with a geolocation matching mechanism, which offers potential matches based on the geographic vicinity. That's the way Tinder work.
• The matchmaking algorithm plays a big part here. The most famous representative here is eHarmony.
• Traditional dating apps, copying old-school dating sites. Tinder's decent competitor, OkCupid is known for this feature.
• Niche dating applications, which target narrow groups of selected people. Some of them position themselves as elite dating services, some of them allow only selected people to sign in. Take an instance, Grade and Antidote are women-friendly dating services.
Reach us Now…
Are you looking for clone scripts or app development services for your
online business venture?
Contact Us