Dynamic filters
Our pet classified script enables the establishment of essential categories and filtering options for pet listings. This empowers pet seekers to effortlessly discover pets based on various criteria such as breed, age, location, size, and more.
SEO-friendly design
Our pet classified script contributes to improving platform SEO by optimizing meta titles, descriptions, and images. It enhances search engine bot comprehension of site structure through the use of robots.txt and XML sitemap during crawling. Additionally, it aids site visitors by incorporating breadcrumb navigation for ease of navigation.

Pet insights
Through this feature of our pet classified script, pet sellers gain insight into the performance of their pet listings. They can access information such as the number of views, likes, and comments from users. Additionally, they can identify top cities with a high number of views for pet listings and gain access to various other valuable metrics.

Banner ads
Our pet classified script empowers pet sellers to display banner ads for their pets, subject to approval by the Admin. This feature allows the Admin to swiftly generate revenue through advertising opportunities.

Quick chat
Pet seekers can engage in uninterrupted conversations with pet sellers through our internal chat system. This feature enhances user experience and attracts more attention to the pet classified platform.
Chat block option
This option empowers users to block any other users on the chat window whom they find bothersome, ensuring they no longer receive messages from those individuals.
Image and location share
This feature allows users to share their locations within the chat window, providing a convenient way for pet sellers to share images of their pets as well.

Featured promotions
By utilizing featured pet listings, pet sellers can significantly boost the visibility of their pet listings, facilitating a faster and more efficient search process for their desired pets.
Urgent promotions
Pet sellers can capture the interest of pet seekers by showcasing their pets in prominent featured positions.
Ad promotions
Pet sellers can elevate their pet listings to the forefront to attract increased attention on the online pet classified platform.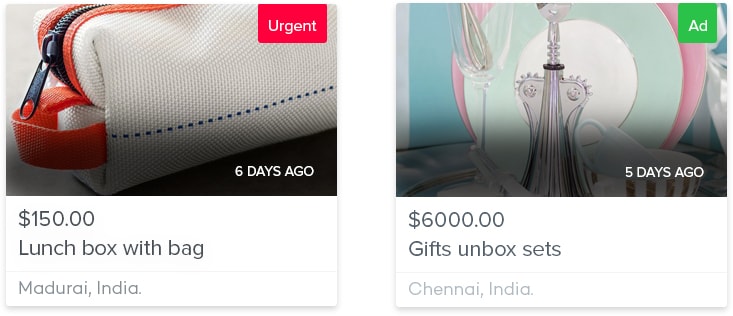 User verification feature
Our pet classified script incorporates this feature to prevent fraudulent user registrations on the pet classified platform. Users are verified through confirmation emails, mobile OTP verification, and the option to log in via Facebook accounts, enhancing security and authenticity.

Social activities
Our pet classified script enables pet seekers to follow their preferred sellers on the pet classified platform. Additionally, they can invite friends to join the app, share pet listings on their social media platforms, log into the pet classifieds using their social media accounts, and interact by liking and commenting on pet listings.

Pet details
Through this feature, pet seekers can gain comprehensive insights into pet listings, including details such as breed, location, age, and more.
Report option
Users have the option to report any pet listed as inappropriate within a specific category, ensuring the platform maintains its standards and content guidelines.
Watermark
Watermarking will be applied automatically once pet sellers upload images to the online pet classified platform.
Video promotion
Pet sellers can enhance their pet listings by including videos through YouTube links. This feature is designed to pique the interest of numerous users on the platform.

Notifications
Through this feature, pet seekers will receive notifications regarding new pet listings, while pet sellers will be informed of messages from potential buyers, updates, and other relevant information.

Web design
Our pet classified script is crafted with a responsive design and utilizes modern technologies to deliver exceptional performance across various platforms. This significantly enhances the user experience on the pet classifieds platform.

Admin dashboard
Administrators can efficiently oversee and manage the operations of the pet classified platform through an impressive dashboard. Additionally, the admin has the capability to appoint moderators to effectively handle the day-to-day app operations.

Customization services
Should you wish to incorporate or remove any new features or concepts in the product, you can rely on our team to provide swift and efficient customization support.