Dynamic filters
Our job classified script supports the creation of all required categories and filters for the job listings on the platform. So, job seekers will be able to find the job vacancies under various criteria such as company name, location, experience, industry, and so on
SEO-friendly design
Our job classified script makes the platform SEO friendly by optimizing meta title, description, and images. Making the search engine bots understand the structure of the site during crawling will be easy with XML Sitemap and Robots.txt. Breadcrumb addition will provide navigational aid for the visitors on the platform.

Job insights
With this interesting feature of our job classified script employers on the job classified platform will be able to know the number of views for their job listings, cities with high views for their job openings, likes and comments received from users, and so on.

Banner ads
Our job classified platform enables the recruiters to get approval from Admin for running banner ads for their job openings. Admin can decide when to place those ads and can quickly earn from this option

Instant chat
With this feature of our job classified script job seekers can communicate smoothly with the recruiters to clarify their doubts. This option will enrich the chat experience of the users on the job classifieds
Chat block
Users can block any other user on the chat window if they find those users annoying and can avoid getting messages from them with this option
Location and image share
This option allows employers on the job classifieds to share their company images or any images related to their job openings. Job seekers can share their locations on the chat window

Featured promotions
Employers can give great exposure to their job openings with the featured job listings. This will help the job seekers in finding their preferred jobs easily
Ad promotions
With this option, recruiters can put their job openings in limelight to snatch the attention of a lot of job seekers on the platform
Urgent promotions
Employers can display their job listings on the spaces that will be more likely to be visible to many job seekers with this option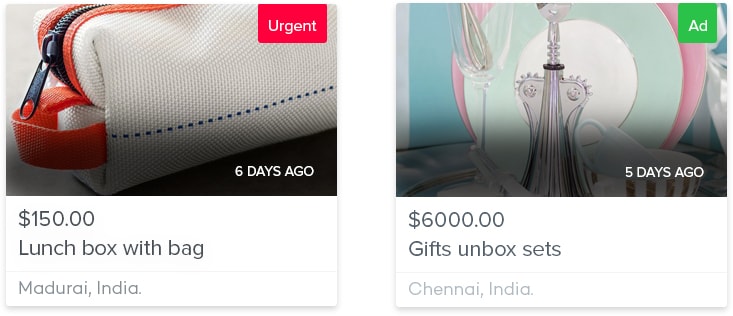 User verification
Our job classified script includes verification feature in order to eliminate fake user registrations on the online job classified platform. Users will be authenticated through mobile OTP verification, confirmation emails, and user login through Facebook accounts

Social activities
Our job classified script allows job seekers to follow recruiters of their choices on the job classified platform. They can also share job openings on social media platforms, can invite their friends to join the app, can like and comment on job listings, and can log into job classifieds with their social media accounts

Job details
With this option job seekers can know the details about the job openings such as field, location, salary range, experience required, etc
Report option
Users can report any job opening if they find that job to be inappropriate under a particular category.
Video promotions
Employers can include videos regarding their job listings through youtube links. This will capture the attention of many job seekers on the platform easily
Watermark
Watermarking will be done immediately when the recruiters upload any images on the job classified platform

Instant notifications
With this feature job seekers will be notified instantly regarding the job openings and recruiters will also be kept informed of any updates, messages from candidates, etc

Web design
Our job classified script is built with advanced technologies and responsive design in order to show smooth performance across platforms. This will enhance user experience on the job classifieds

Admin dashboard
With a stunning dashboard in the Admin panel Admin can monitor and manage the job classified app activities smoothly. Admin can also add moderators to the platform and can assign roles to them to handle the job classified platform operations effectively

Customization services
In case you need to remove or add any features or looking for some fresh ideas in the product, you can contact our team. Approach our team to get quick customization support