Dynamic filters
Our pet classified script allows the creation of required categories and filter options for the pet listings with which pet seekers will be able to find the pets based on different criteria like breed, age, location, size, etc
SEO-friendly design
Our pet classified script helps in making the platform SEO friendly with the optimization of meta title, description, and images. Robots.txt and XML sitemap will help in making the search engine bots understand the site structure during crawling. Also, provide navigational assistance to the visitors with the addition of breadcrumb

Pet insights
With this feature of our pet classified script pet sellers will be able to know the views for their pet listings, likes and comments from users, top cities with high number of views for pet listings, and many more

Banner ads
Our pet classified script enables the pet sellers to run banner ads for their pets after getting approval from the Admin. Admin can make money quickly with this feature

Quick chat
Pet seekers can have a smooth chat with the pet sellers without any interruption with an internal chat system. This feature will grab more eyeballs on the pet classified platform
Chat block option
With this option users can block any other users on the chat window whom they find to be annoying and thereby can avoid getting messages from them thereafter
Image and location share
This feature enables users to share their locations on the chat window. Pet sellers can also share their pet images easily

Featured promotions
With the featured pet listings, pet sellers can provide great exposure to their pet listings. This will help the pet sellers to find their desired pets quickly
Urgent promotions
Pet sellers can snatch the attention of pet seekers by displaying their pets in the featured positions
Ad promotions
Pet sellers can put their pet listings in the limelight to grab more eyeballs on the online pet classified platform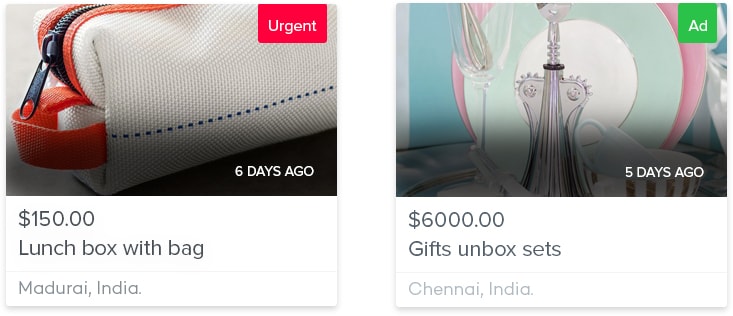 User verification feature
Our pet classified script includes this option for avoiding fake user registrations on the pet classified platform. Users will be verified through confirmation emails, mobile OTP verification, and login through Facebook accounts

Social activities
Our pet classified script allows pet seekers to follow the sellers they like on the pet classified platform. They can invite friends to join the app, share pet listings on social media platforms, can log into pet classifieds with their social media accounts, and can also like and comment on the pet listings

Pet details
With this feature pet seekers can know about the pet listings fully such as breed, location, age, etc.
Report option
Users can report if they find any pet listed to be inappropriate under a specific category
Watermark
Watermarking will be done once the pet sellers upload images on the online pet classified platform
Video promotion
Pet sellers can include videos for their pets through youtube links. This will arouse interest among many users on the platform

Notifications
With this option pet seekers will be notified regarding pet listings and pet sellers will also be informed with messages from buyers, any updates, etc.

Web design
Our pet classified script is built with responsive design and modern technologies to show unsurpassable performance across platforms. This will enhance user experience on the pet classifieds

Admin dashboard
Admin can view and manage the pet classified platform operations smoothly with a striking dashboard. Admin can also add moderators to the pet classifieds to handle the app operations effectively

Customization services
If you need to add or remove any new features or concepts in the product, you can approach our team and get quick customization support