Insights for Entrepreneurs
Business model and features of the doctor appointment booking script

10 min read
In today's digitalized world, people use doctor appointment booking app to book appointments online.
Here, users can get timely and trustworthy access to experienced doctors and can also book appointments instantly. It allows doctors, hospitals, and patients to connect with each other. So, the need for a user-friendly mobile medical app is increasing rapidly in the healthcare sector.
Do you want your healthcare business to achieve tremendous growth within a short span of time? Then, you can make use of a reliable Zocdoc clone solution.
Let us now see the business model and the astonishing features of this online solution.
The workflow of the doctor appointment booking app
This two-sided network connects patients and doctors online. It reduces the waiting time of patients through online consultation from their preferred doctors. Patients can book appointments online and go for regular check-ups with custom reminders.
The patients can choose their preferred doctors depending on their health problems and can book appointments. Doctors are made visible to the patients based on their availability. So, it is easy to schedule an appointment with quick updates.
Some of the key benefits of the doctor appointment booking app are as follows:
With the help of this scalable app, users can book appointments within a fraction of a second. So, there is no need to stand in long queues to book an appointment with the preferred doctors.
The process is simple and hassle-free. It allows doctors to handle the bookings effectively once they get their appointment list. Patients can book appointments during their leisure hours. They can also request free health care tips from doctors without any special charges. 
Core features of the doctor appointment booking app
Let us now see some of the striking features of the doctor appointment booking app
For Patients
Let us now see some of the important features available for patients in telemedicine script.
Easy Registration and login
The users can register themselves on the doctor appointment app by using their email id or social media accounts. The app allows registered users to log in easily within a fraction of second.
Personal profile creation
Users can create personal profiles for a customized app experience. They can enter details such as name, age, email address, etc. Users can also provide information related to their health such as weight, height, blood pressure, etc. These details would greatly help in creating a personal health chart of patients.
Advanced search option
When looking for a responsible solution to a health problem, users can use this advanced search feature. They can look for experienced doctors, medical practitioners, and clinics online. They can then filter the results by experience, location, specialty, ratings, etc.
Booking/canceling an appointment online
The users can proceed with booking appointments once they are done with the selection of doctors. When he/she is booking an appointment, it is essential to fill a form with personal details. It can include name, age, health problem for which he/she is consulting the doctor, symptoms, etc. Patients can also cancel the appointments when needed.
Telemedicine or live video conference facility
With the video calling / live chatting with the doctors, the patients can consult their doctors online. Through messaging service, patients can communicate with the doctors to get updates on reports, to clarify doubts, etc.
Email alerts and reminders
Custom email alerts are used to notify the users regarding their appointment details, timings, products, and offerings. The appointment date will also be stored in the phone calendar.
Online payment
Once the users get their medical services, they can make their payments through the safe and comfortable payment gateway. They can make their payments online through credit, debit, and net banking facilities. And, can also pay through apps like Google Wallet and Apple pay with no further delay.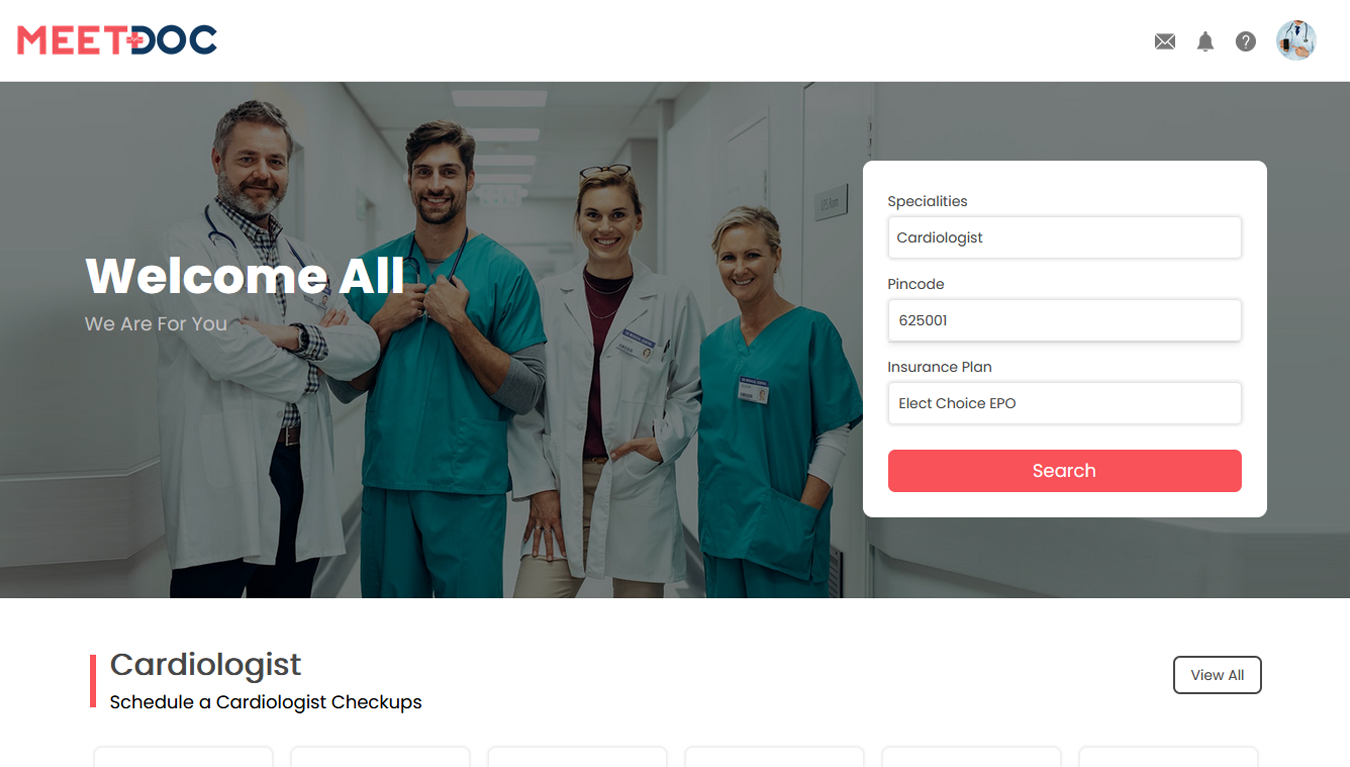 For Doctors
Let us now see the features available for doctors in the doctor appointment booking app.
Profile creation
Doctors can register and log in with simple steps. They can create their profiles with their names and areas of specialization. Information regarding the location of the clinic and available appointment hours can also be included in their profiles. It is essential to include the ratings and reviews given to them. Because patients normally prefer to consult specialists or doctors depending on their ratings and reviews.
Appointment status check
Doctors can view the date and time of all booked, canceled, and completed appointments. This feature helps doctors to schedule their upcoming appointments without any confusion.
Accept/Reject appointments and edit schedule option
Doctors can accept or reject any particular meeting after viewing their complete list of appointments. Based on their schedule, doctors can assign a date and time to a particular patient. After scheduling an appointment they can update it on the website. Based on their availability, doctors can also make required changes in their daily schedules.
Online prescription based on patient details
Doctors can view the details of the registered patients such as name, medical history, health problems, previous treatments, etc. So, they can prescribe medicines online to the patients.
Features on the Admin panel
Let us now see the features available for Admin.
Elegant dashboard
Admin can catch a glimpse of the web site's performance and track user behavior. And, can control the platform through an interactive and impressive dashboard.
Adding doctors to the website
Admin can add experienced doctors and unlimited pharmacies to his/her website. He/she can also showcase the achievements of the doctors on the website along with their personal information.
Management of doctor/patient details
Admin can manage the complete history of the patients to provide best-in-class service to them. He/she can manage the details of all doctors and categorize them based on their area of expertise. So, patients can just select their category of problem and then book appointments with their preferred doctors.
Appointments and reports management
Admin can view the entire list of scheduled appointments for a specific doctor or a clinic. Admin can also manage the process of informing the doctors again regarding the appointments. Also, the admin can update the information change between the patient and the doctor. He can also manage the reports related to the number of doctors registered and the number of users enrolled.
Management of online payments and pricing details
Admin can manage the payments that are made by patients/users using in-app payment options. Admin can also manage the pricing for online doctor consultations and other service requests.
Promo and Business coupons
Mind-blowing offers and promo coupons will definitely attract your patients and thereby forming a large customer base. Business coupons allow you to tie up with other organizations to reinforce your business.
Content Management System (CMS) for Articles and News
The admin can manage all the publishing information of the doctors associated with the appointment booking app. They can also publicize the details as well.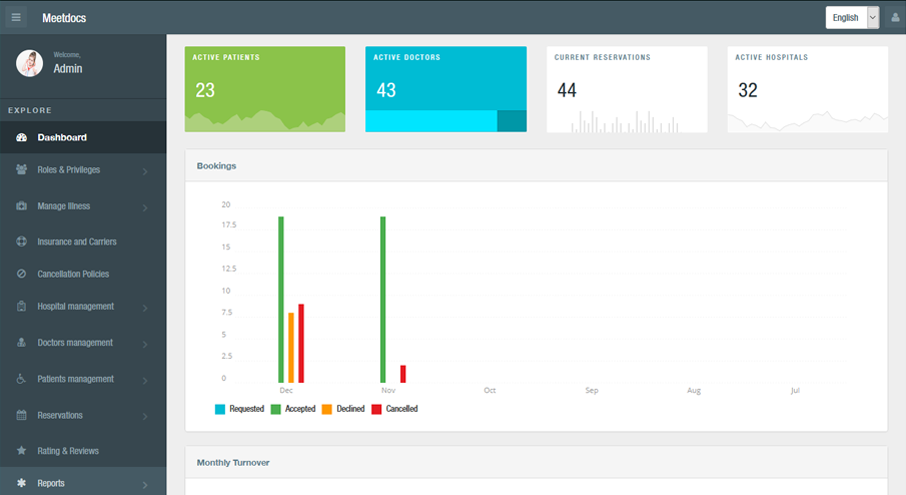 [Above image shows admin features available in Appkodes Meetdoc]
Revenue generation through Zocdoc clone
As the Zocdoc clone is a patient-centric model, it is completely free for booking an appointment through this online patient-doctor connecting portal.
So, the subscription fee is the main source of revenue. It is paid by doctors for the doctor appointment app services such as connecting them with patients, etc. Sponsored results service is another important source of revenue. It allows doctors to stand out from their competitors and get identified by patients who are in search of services. Under this service, the advertisements are displayed only to the patients who are in search of those parameters that perfectly match with the attributes of a doctor's profile.
For this display of advertisements, the doctors are charged based on several factors. Those factors include the patient ratings and reviews, bid rate for market and specialty, practice size, and many more.
Why there is a need to develop a doctor appointment app for your healthcare business?
The smartphone has become a part of our life rather than serving as a tool to simplify our daily activities.
From a startup clinic to multi-specialty hospitals, doctors and medical professionals are using smartphones to simplify their tasks. So, there is no doubt that an effectively developed medical app will assist patients anytime and anywhere.
So, there is a steady increase in the demand for user-friendly mobile medical apps in the healthcare sector. Doctor appointment software is definitely a cutting-edge introduction in the healthcare field. According to a survey, in 2017, there were around 325,000 mobile health apps in App stores. Around 52 percent of people prefer these medical apps to get health-related information, prescription information, and many more.
In the next five years, the mobile application for health care will play a significant role within the medical practice.
So, healthcare providers are now focusing on medical mobile app development. So that they can offer patients a more convenient way of booking doctor appointments and getting consultations.
The new technologies that are available in the market are not just limited to digital communications and computing processes. The development of a doctor appointment booking script involves a qualitative transformation in search tools, social network technologies, etc. Some design elements like articles by doctors, doctor ratings, consultation services are essential for developing a doctor appointment app.
Key points to stand out from your competitors
Let us now see some of the key points for developing an effective doctor appointment booking script
Choose a unique design to make it look alluring and responsive in all possible ways.
Make sure to include additional features for payment and appointment. Because this will attract more customers by serving as a unique doctor appointment booking app.
 Last but not least make it easy for your customers to book appointments swiftly.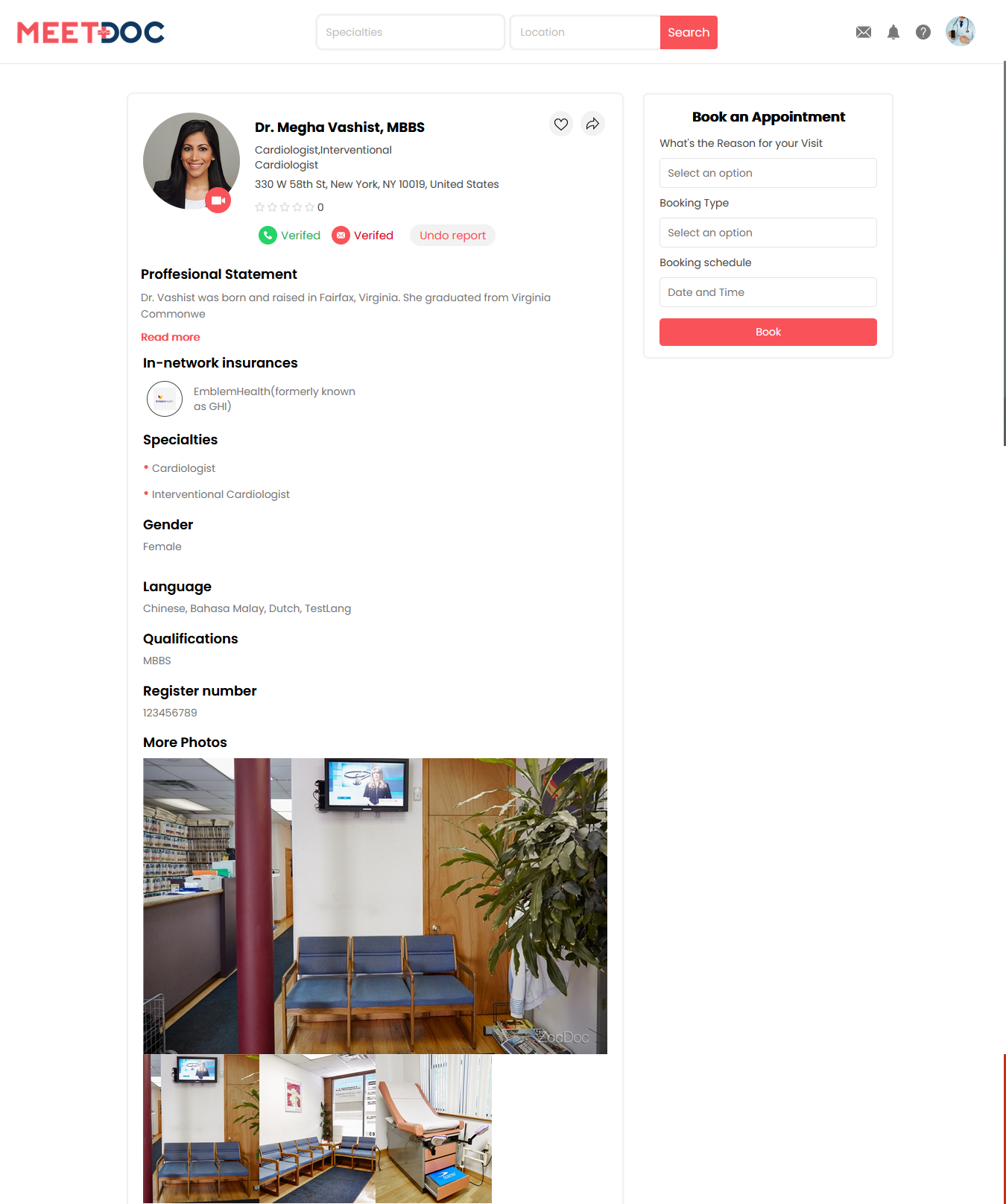 [Screen preview of advanced features available in Appkodes Meetdoc doctor appointment booking script]
Developing a successful and impressive doctor appointment booking script
For the successful development of a doctor appointment booking app, you must clearly define your requirements and target customers.
Approximately, the development of a doctor appointment booking app would take around 40-50 days. The timeframe for developing a booking app depends on the number of features to be included in the app. You can include features like online doctor appointments, medical records storage, medicine delivery, medicine reminders, in-app reminders, etc. The approximate cost for building such an app starts from $800.
Note :
With in-depth market research and analysis, we have presented here the list of all beneficial inclusions that help your business to maintain a competitive edge. These above-mentioned features and functionalities may not be readily available in our versatile script. But, our scalable solution can be customized swiftly and effortlessly to include these additional features and thereby making your business stand out from the crowd. To know more about the cost and time frame for these inclusions in our script, you can contact our customer help desk.
Go for a scalable doctor appointment booking script now
Are you looking to develop a doctor appointment booking app across popular platforms like iOS and Android? Why still waiting? Our cost-effective telemedicine script from Appkodes with stunning features will help you to attain your goal.
We deliver our solutions on time and as per the requirements of our clients.  We focus on delivering top-notch products to meet our client's requirements. To say in a nutshell, we employ innovative techniques and user-friendly concepts to arrive at a top-quality doctor appointment app. Our team of experts will come up with a unique solution to meet all your requirements. Make use of our innovative solutions to reach greater heights in your healthcare business.
Reach us Now…
Are you looking for clone scripts or app development services for your
online business venture?
Contact Us