Our Products
8 Creative mobile live streaming apps for b2b brands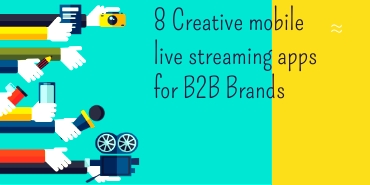 7 min read
As a B2B brand marketer, you'll have to find ways to engage your audiences. And at the same time build connections that drive revenue. There are numerous ways to capture your audience attention, live streaming is something that can make your customers feel connected with your brand.
If done right live streaming can leave your customers with great impact.
To make your live streaming dream come true all you need is a smartphone, a robust connection, and a right app.
Mobile live streaming apps are a sturdy way to engage your audience in which you don't have to invest a fortune in video equipment.
The quick stat about Livestream: 80% of your audiences will watch your live streaming than reading your blog
List of Creative Mobile Live Streaming Apps for B2B
We have created a list of eight creative mobile live streaming apps built for B2B marketers, to sum up, all your work.
1. Livestream
They give you hardware as well as software for you to choose by. This tool can help you stream in a highly responsive streaming experience with many details. You will enjoy automated high-quality encoding. Under an interactive UI and need not worry about your CPU usage, network issues, and storage. Their software has the ability to update user streams to other live platforms as well.
Why you'll love it?
1. Stream like a professional live broadcaster
2. Reach your audience in all places without compromising quality no matter how bad your network is.
3. Monetize your live streams with an OTT subscription with branded apps across the internet.
4. They're one among the most popular Premium tool!
2. IBM Cloud Video (including Ustream)
This tool is for creating, managing, hosting as well as broadcasting videos. IBM Cloud Video has an improved ECDN (Enterprise content delivery network) technology. This means you can expect your live stream can be watched by 6k+ employees. Even if they are sharing a single strain without any interventions or network delays.
You can host live events, manage corporate communications, access comprehensive multi-screen streaming and so much more.
Why you'll love it?
1. This is the most sturdy video streamer with rich ROI and has an intelligent insight generator in-built.
2. With AI-infused technologies, IBM Cloud Video you'll be able to strengthen your live streaming.
3. You can stream over a secure platform. You can take control over every individual watching your video for enhanced monetization.
4. This reliable software has a free trial followed by professional plans starting from $99/-
5. If you're a big business owner you can consider IBM Cloud stream's enterprise plans.
3. Vimeo Live
If you're a business looking live stream for updating your customers about your current news and upgrades? Then Vimeo Live is all you need. You'll be able to cross-publish all your videos on all possible social platforms. This an all-in-one-streaming software. Where you have ad-free HD streaming with cloud transcoding and RTMP. You can also expect for powerful integration with secure sharing also while you host simultaneous events.

Why you'll love it?
1. Don't have to manually deal with storage and managing your videos anymore.
2. Ability to sell your video practically anywhere in the world.
3. Download advanced reports and analytics on your audience behaviour.
4. You can customize your event or live streams without any stress.
5. They have got the fastest human-support care.
6. You can get a free demo, followed by a Vimeo plan for video hosting for $7 per month. However, you can customize your pricing plans anytime in a day from their support care.
4. Livza
Built live streaming script over an asynchronous event-driven framework for a tenacious live streaming with 99.99999% uptime. You'll be able to record streams, broadcast videos straight away. They also have a dedicated broadcaster app with more features tailored to your business interview, Live Q&A, and more.

Why you'll love it?
1. Because they provide end to end customizable white-labelled-streaming services.
2. Customize your software tailored for your business hassle-free.
3. Add your own features without compromising your software quality.
4. Get help from a dedicated support team.
5. They're known for their professional installation and product delivery systems.
6. You'll be able to sell your products without pausing your streaming with their quick-sell modules.
7. 400″>You can opt for a free demo followed by their livza ultimate package.
5. Bambuser
Bambuser has been providing superior solutions for real-time mobile video streaming. You have developer-friendly tools ensuring quick plug and play options. Bambuser has been ensuring their services has not just low but ultra-low latency for the past 10 years. You can integrate their app into your own business app or simply use theirs. Streaming is possible all over the world with quick uptime.
Why you'll love it?
1. This is one among the white label live streaming service provider.
2. You have a powerful API and interactive cloud-based-content manager.
3. They have tailored plans compared with other software.
4. Plus they're one among the AWS partner network.
5. They provide you with a free trial period, with entirely customizable pricing plans that can give you access over their SDK's and broadcaster applications.
3 Totally Free Live Streaming Social Platforms for B2B
6. Facebook Live
Facebook Live is the place where you'll be able to produce live content every single time you choose to stream. Many users are still confused about Snapchat's live option, where FB users have started to change their customer's view of their brand. B2B business does not always have to rough and Facebook's Live is one of the best options for you to consider. If you have huge followers in your FB profile, then this can be much simpler than you thought it would be.
Why you'll love it?
1. This is the most cost-effective video strategy across the live streaming platform.
2. You can connect with your audiences on a personal level.
3. You'll be able to create awareness in your community.
4. You can keep your audiences updated and create buzz dealing with recent releases.
5. This drives a good amount of traffic to your Facebook profile. By which you'll be able to track real-time engagement and insights.
7. YouTube Live
YouTube opened its live door to creators and publishers entertaining and educating a larger audience in the platform. These users can go live straight from their Android or iPhone without any troubles. YouTube allows users with less than 10,000 subscribers. This is because YouTube is being picky about what their visitors are viewing across their platform. And, again YouTube wants to push high-quality content.
Why you'll love it?
1. You can be sure you're going to live because YouTube finds you as an authentic user.
2. You'll enjoy gifts and other small streaming capabilities such as tips and YouNow.
3. YouTube is a library for video searching and streaming content. Your live content on YouTube is an evergreen opportunity for today and in the future.
4. You have the ability to drive your live visitors to your websites or landing pages.
8. Instagram Live
With a noisy market, you'll be able to stand out from the crowd using Instagram live. This platform will make you sound creative and approachable than other apps. This will help you create a solid fan base within moments of streaming Live.
Why you'll love it?
1. If you have planned your date and time for the live event. You can enjoy the cross-function-promotion option and promote your live news across all social platforms.
2. Versatile customizations
3. You'll be producing live streaming in a distinctive approach than your competitors.
—-
Are you using live streaming from other networks?
Do you think we've missed any important apps on our list?
Share them with us.
Give us some tips on how you include live streaming in your brand's marketing strategy. Comment all your ideas or email us.
Reach us Now…
Are you looking for clone scripts or app development services for your
online business venture?
Contact Us